Joy Belmonte and Looie Lobregat have brought guest creative director Joseph Aloysius on board to collaborate on a new collection under the label Linea Etnika x Aloysius.
Linea Etnika, the brand of chic Filipiniana fashion created by Quezon City Vice Mayor Joy Belmonte and former banker and "mom-preneur" Looie Lobregat, will be weaving a new story at the ArteFino fair starting Aug. 30.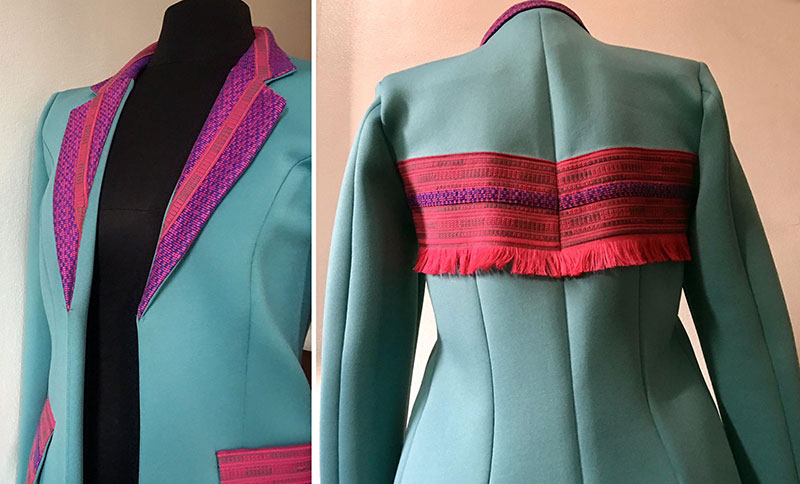 Aqua fina: The front and back of the new Loren jacket, named after Senator Loren Legarda
Known for its use of bold and colorful Yakan weaves, Linea Etnika has brought a guest designer on board to collaborate on a new collection under the label Linea Etnika x Aloysius.
"We have a guest creative director, Joseph Aloysius, for our Maria Clara kimona top," notes Looie. "It was named in honor of my grandmother, Maria Clara Lorenzo Lobregat, fondly remembered as Nana del Ciudad de Zamboanga (translated from Chavacano as "mother of Zamboanga City"). She was an advocate of culture who wore her terno every day. Lola Caling was a pioneer in making weaves mainstream!"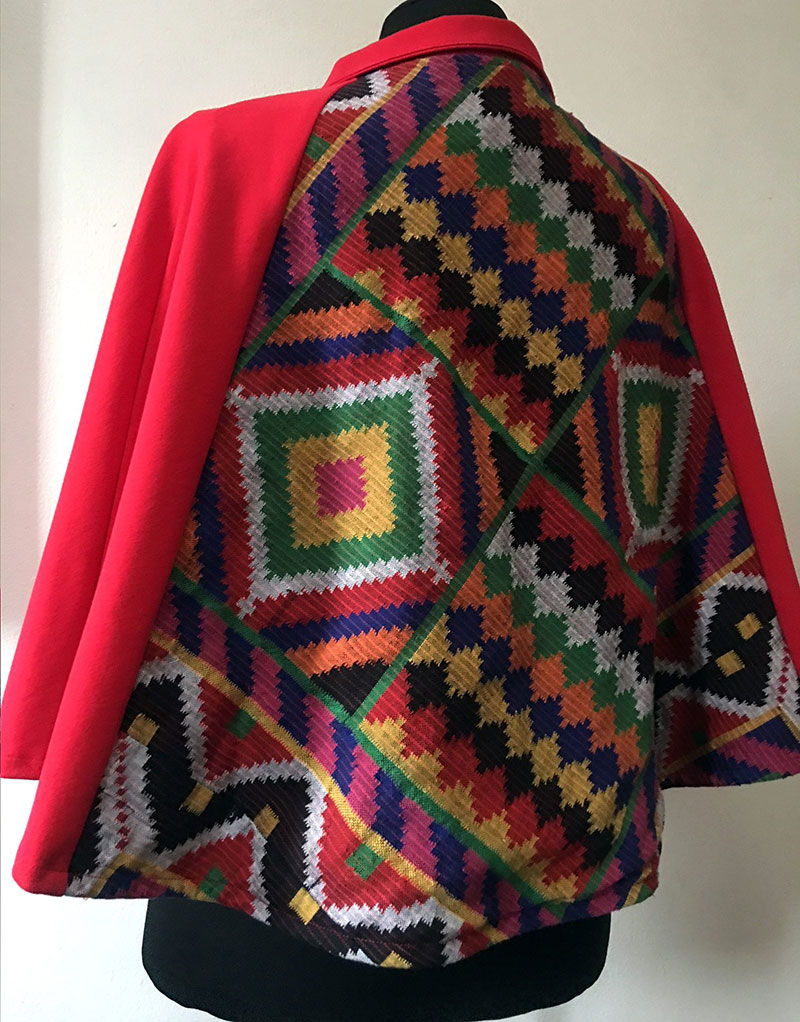 Red riding cape: The new Capa Cecilia showcases a bold and colorful Tausug weave.
The brand, whose modern yet understated pieces have been compared to Prada (but at midrange price points) by fashionista customers, will also have items like the Kelly top, beaded and embellished with laser-cut Yakan flowers; the Kat jumpsuit designed with frayed Yakan weaves; the Capa Cecilia, outerwear made of Tausug weaves and finished with Yakan-covered buttons; and the Loren jacket, named after Sen. Loren Legarda, "an avid culture supporter," according to Joy and Looie.
The two friends met through the Congressional Spouses Foundation, Inc. (CSFI). Both their fathers are in Congress — Joy's dad is former Speaker of the House and Quezon City Mayor Feliciano "Sonny" Belmonte Jr., while Looie's dad is former Zamboanga City Mayor, Rep. Celso Lobregat Jr.
"Joy and I found it so sweet of our fathers to exchange notes about how our business was going when they would see each other in Congress," relates Looie.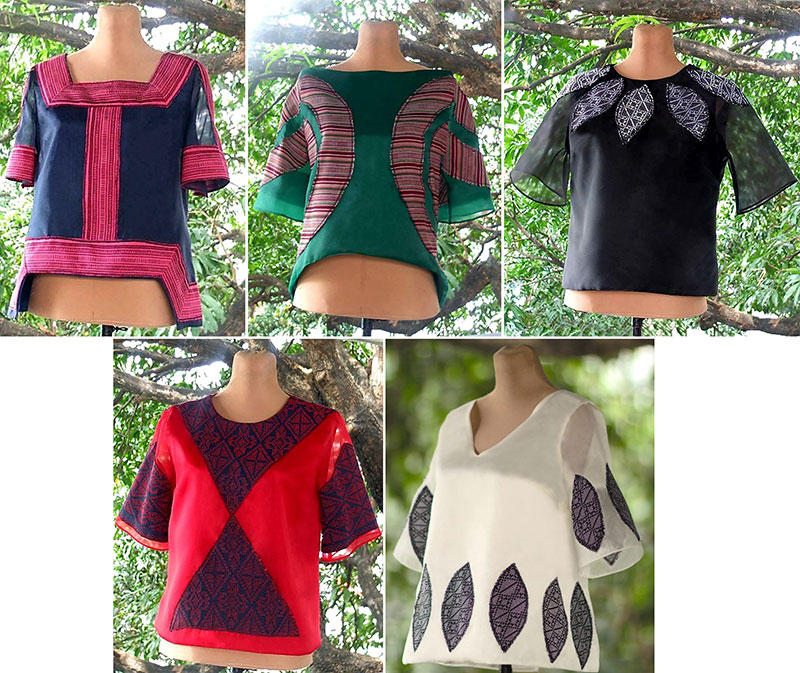 The Linea Etnika x Aloysius collection available at ArteFino: Five versions of the Maria Clara kimona top feature different necklines and silhouettes embellished with handloom Yakan appliqués embroidered on gazar fabric and lined with silky charmeuse.
Joy was president of CSFI when Looie joined, and they got to know each other better through CSFI's Lakbay Aral trips. While most women bond over shared interests like makeup, Joy and Looie bonded over love for country.
"'I'll be your partner,' I remember telling Looie as we shopped for twin wooden mannequins that got us talking about modern Filipiniana," Joy says. "That was two years ago! It was a great decision. Looie and I work well together and our friendship is easy."
"We wanted to work with communities in Zamboanga City and Quezon City and found fashion to be our medium," adds Looie. "We believe in the dignity of work and are in awe of the talent of our Filipino artisans.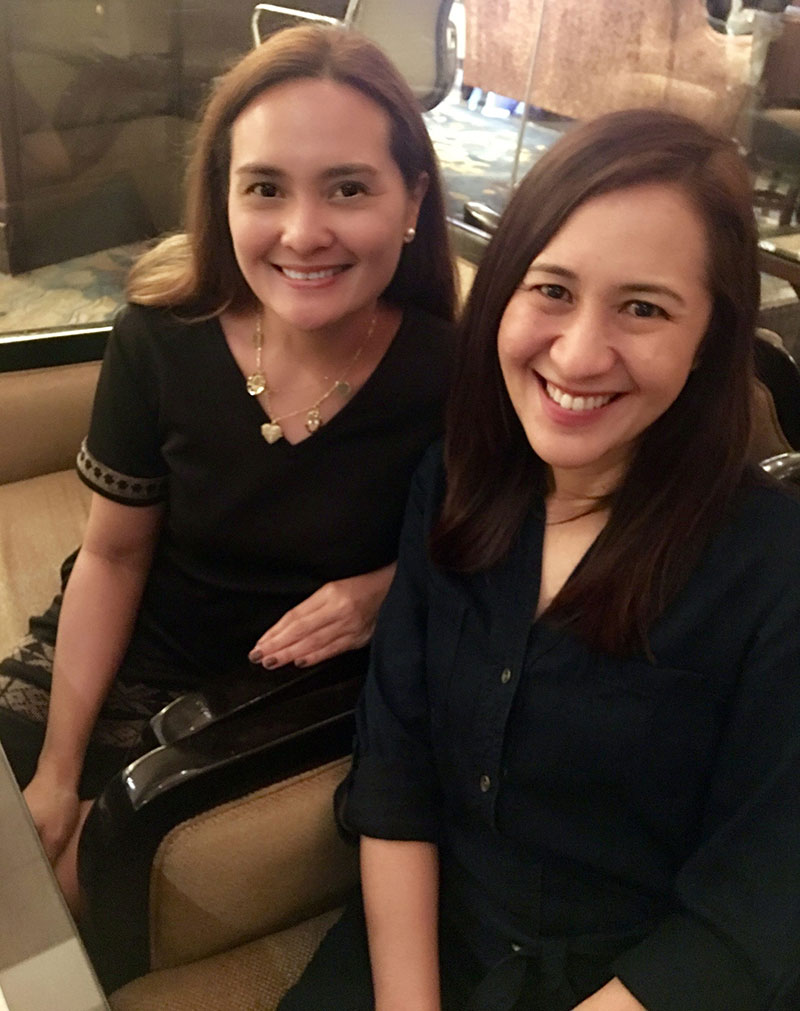 Linea Etnika founders: Quezon City Vice Mayor Joy Belmonte (right) and entrepreneur Looie Lobregat
"We also are smitten by our sons; we both have one," she adds. "We are the apple of our father's eyes. And our husbands are deeply in love and supportive of their empowered wives!" she laughs.
Through Looie's Lola Caling, a congresswoman who was the first woman mayor of Zamboanga, the Lobregats had established a relationship with the Yakan tribe, who had settled there from Basilan.
"The Yakan people were the traditional settlers," explains Looie. "In the 1970s some moved to Zamboanga due to political unrest. There are now over 40 families in the Yakan village that call Zamboanga City their home."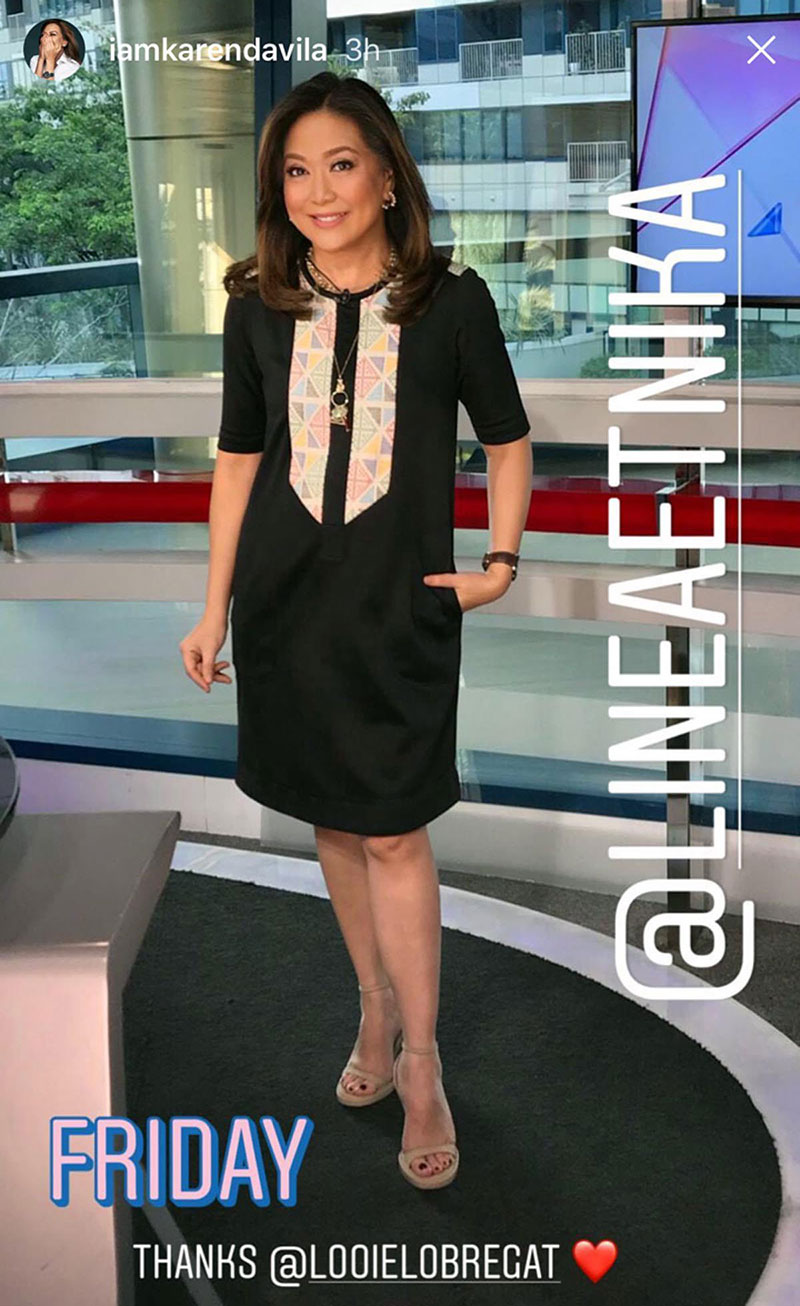 Karen Davila posts a photo of herself on Instagram wearing a version of Linea Etnika's Joy dress.
The Yakans are expert at hand-looming tightly woven, intricate and geometrically patterned fabrics inspired by nature and island living out of silk, abaca, pure cotton and pineapple, and dye the fibers with herbal extracts from leaves, roots and bark. "However, since the availability of natural materials is limited and to address market needs, they have also welcomed the use of cotton blends," notes Looie.
Yakan cloth is typically sold per meter, and it takes four days to fix a pattern on a back-strap loom and another four to five days to weave a meter. "Weavers learn at a very young age from their mothers and grandmothers and pass on the tradition through memory," Looie says. "A full loom is about 20 meters and this makes use of over 100,000 meters of thread!"
Weaving Indigenous culture with fashion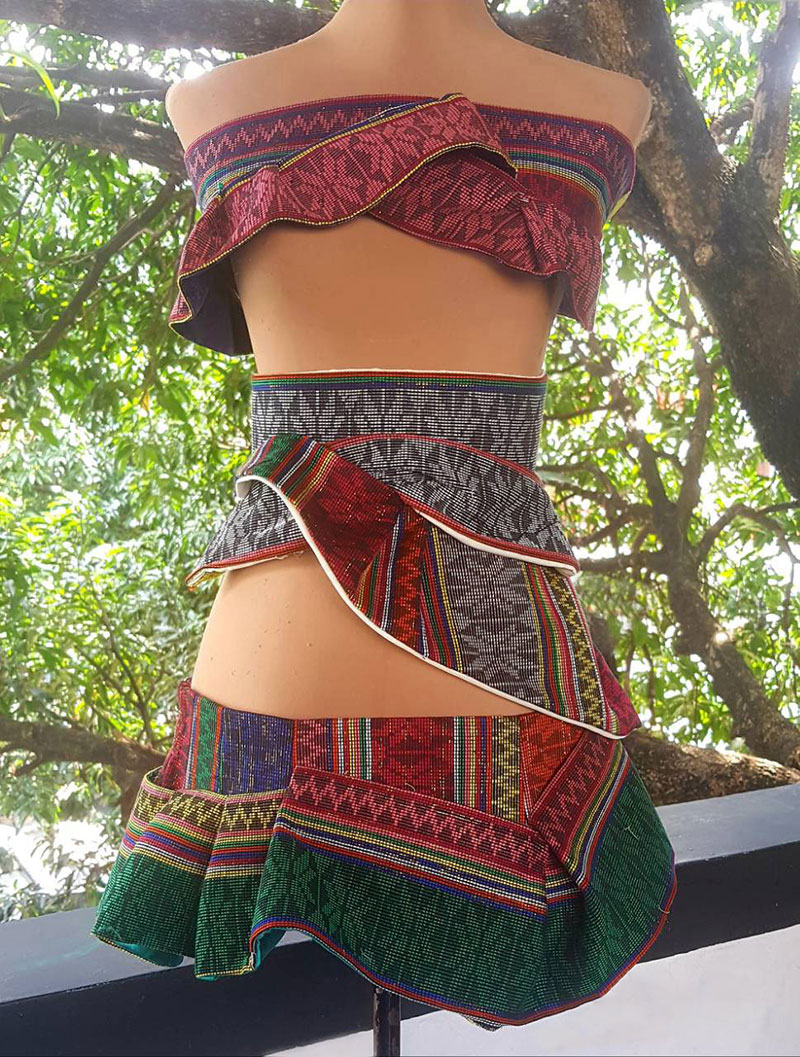 Three versions of the Querida Obi belt made of Yakan Pinalantupan weaves: This is the first time Linea Etnika has created obis and made use of this embossed Yakan handloom.
Wanting to establish a social enterprise that would weave indigenous culture with fashion, and to create an artisanal brand that would preserve and promote Yakan culture and its tradition of weaving, Joy and Looie decided to form Linea Etnika.
Looie's father helped her come up with the name, and both women shared similar style preferences, favoring understated elegance, clean lines and classic silhouettes, which became the basis for Linea Etnika's brand aesthetic.
A former banker, Looie fills the roles of both finance person and creative, running the daily operations as Linea Etnika president and also designing the pieces and imbuing them with story. "Although Joy has her hands full as vice mayor of the biggest city in the Philippines, she is very supportive, especially with social media posts, sharing with her network and of course modeling our creations," she says.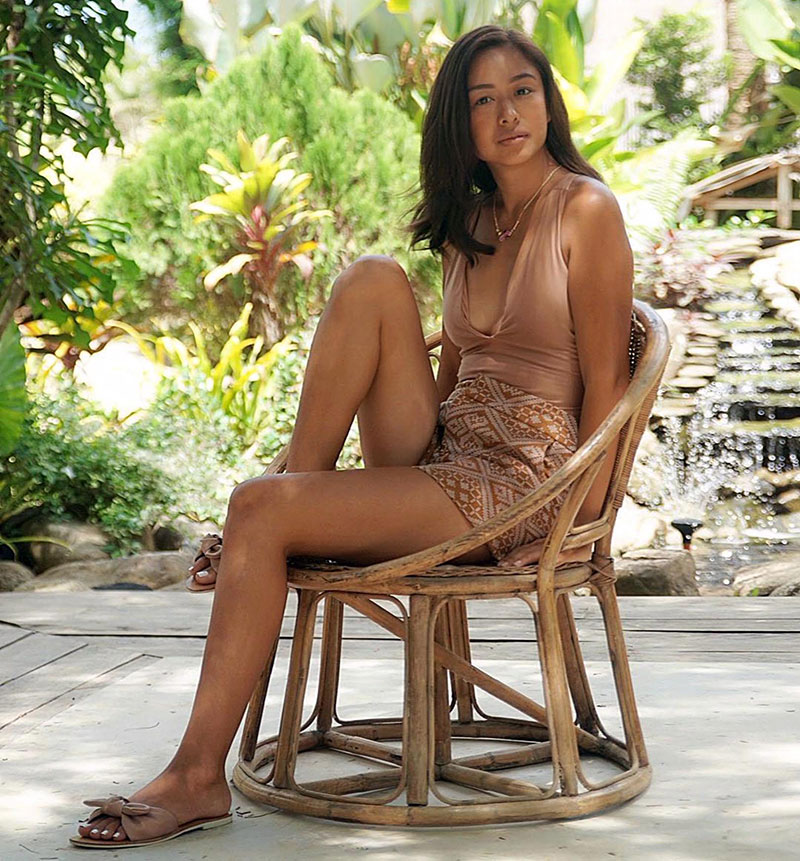 Model, host and blogger Kelly Misa in mocha Ines shorts, one of Linea Etnika's signature products
With pieces accented or made entirely out of Yakan weaves like the Elena jacket — made out of special Pagal Bato weaves used in Yakan bridal jackets — Linea Etnika has also incorporated other indigenous fabrics into its apparel, like Tausug weaves from Sulu, and Inaul weaves from Cotabato.
"The focus is on Mindanao weaves, but we've experimented with Hablon and Patadyong from Iloilo in the Visayas," says Looie.
Personally I'm eyeing signature products like the Joy dress, Linea Etnika's version of the barong dress that was their very first design when they launched in 2016, and the Looie dress, with its flattering V-neck and convenient pockets.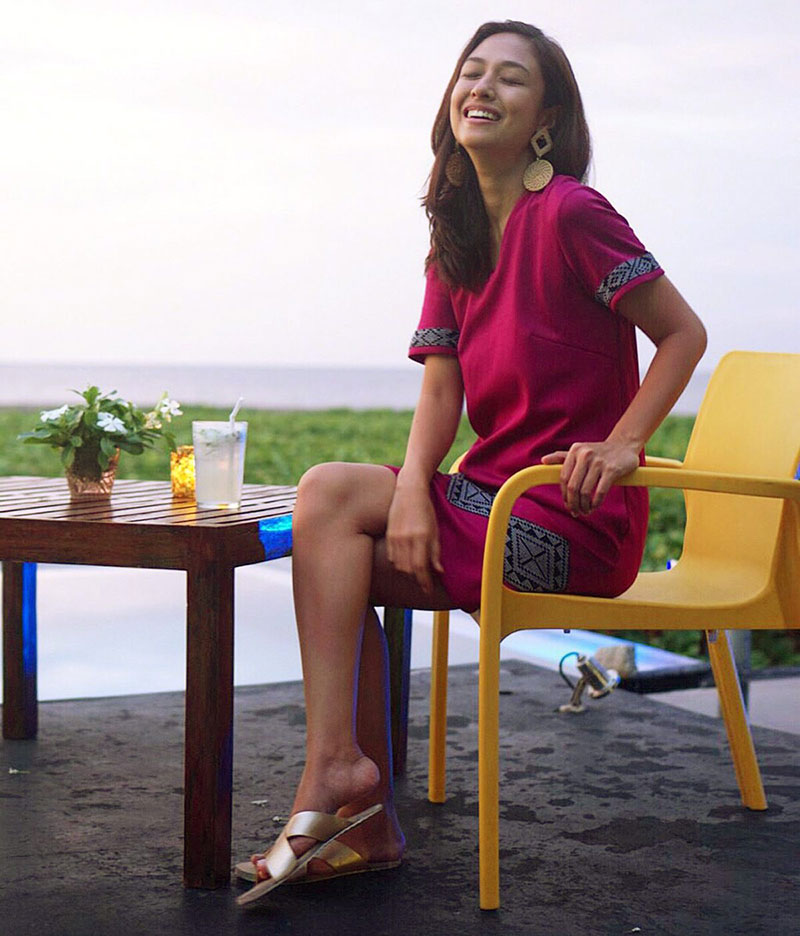 Kelly Misa in a signature Looie dress
They also have such covetable ballet flats and carabao-horn jewelry: to make use of the retazos, or precious scraps of leftover Yakan textiles, Linea Etnika repurposes and upcycles them into shoes and accessories. The shoes are made in partnership with Lupe Saenz, whose artisans hand-make them with leather in Marikina.
Looie says that 95 percent of Linea Etnika's sales are local, with some customers based abroad who course their purchases through a Philippine relative or friend who would be able to hand-carry it to them.
"We had a Swiss client who ordered a pair of Lola slip-ons for his wife since their dog chewed on it," she says. "He said his wife loved the pair, which reminded them of their lovely holiday in the Philippines. I hand-carried the item to London last August and sent it via post to Switzerland. That saved him a lot on courier fees and I was happy to play a part in delivering his wife's surprise gift."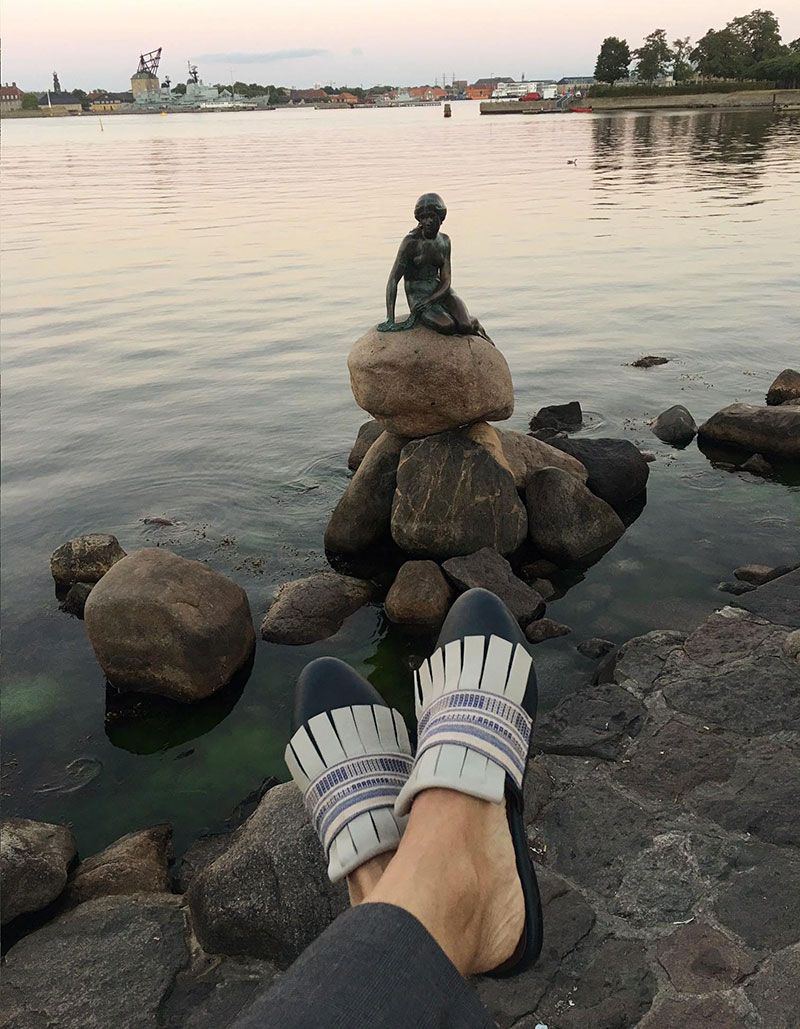 Star product: Black Lola slip-ons with beige fringe
It's that level of thoughtfulness and personalized service that differentiates Linea Etnika from other Filipiniana brands. "Our customers say, 'You always ask for feedback when many are just busy selling,'" Looie says. "'It sets you apart.'"
Joy adds, "Our journey is fulfilling, thanks to the Linea Etnika women who support our advocacy to keep the tradition of handloom weaving alive. It's exciting to arrive at a function and see ladies in Linea Etnika. When I visit the communities we work with in QC, the women always ask when the next Linea Etnika project will be. It's brilliant that our brand allows us to create livelihood for women and promote culture at the same time."
*  *  *
Linea Etnika x Aloysius will be available at ArteFino at the Penthouse, 8 Rockwell, from Aug. 30 to Sept. 2, 10 a.m. to 8 p.m. Linea Etnika is also stocked at Rustan's Makati, Kultura SM Makati, Lily Lifestyle Boutique in Discovery Primea, and Rags2Riches in UP Town Center.
Email lineaetnika@gmail.com or send a private message on FB (Linea Etnika) or Instagram (@lineaetnika) in case you see an item you like but can't find at their retail partners. They also do made-to-order, custom pieces, and hem and sleeve adjustments.

Originally published: https://www.philstar.com/lifestyle/sunday-life/2018/08/26/1845783/linea-etnika-weaves-new-story-artefino#O3mA4HcYgCEVUQRv.99