Published: Philstar.com, February 18, 2018
It was there: an old house in Potrero, Malabon (with antiques and 200-year-old statues of saints inside, visitations from stray catfish outside, and epic family gatherings all throughout the year) where Senator Loren Legarda chased butterflies and dragonflies as a child.
"I used to play with salagubang (green beetle)," she recalls. "I would climb mango trees, taste aratiles and macopa, as well as pick kamias. There was a big sampaloc tree where as kids we thought a kapre was hiding (laughs)."
Summers were resplendent, the rains were silver and harmonious, and the girl had her whole life ahead of her. During those days, the young Loren dreamed of someday becoming…
"An astronaut," she quickly answers. "I would look at the stars at night and literally wanted to reach them. Instead, I just did it figuratively."  
image: http://media.philstar.com/images/the-philippine-star/lifestyle/sunday-life/20180218/lif2-Kalinga-Flat-Gong.jpg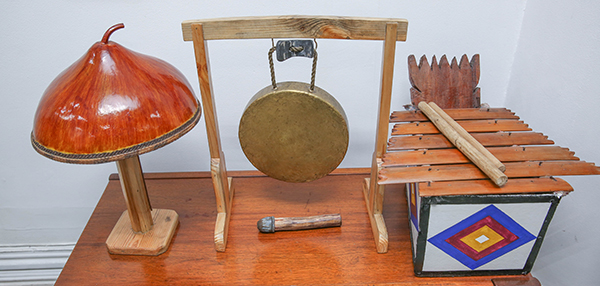 A gourd hat also known as a tabungaw, a gangsa (Kalinga flat gong), and a Yakan bamboo xylophone known as gabbang
Later on, she decided on emulating her grandfather, Jose P. Bautista, who was an editor of the pre-martial law The Manila Times. "I wanted to become a journalist like my grandfather, whom I respected and idolized. He talked about it all the time, but my memory of that is a bit hazy because I was so young then." The dream bore for Legarda a very fruitful career in broadcast journalism, earning prestigious awards such as the Ten Outstanding Young Men (TOYM) from the Philippine Jaycees (1992), The Outstanding Women in the Nation's Service (TOWNS) Award (1995), and the Benigno Aquino Award for Journalism (1995) for her sterling record as a journalist for more than two decades.
She says, "And then I became an 'accidental politician.'"
But for Loren, being a Senator has given her a platform to further pursue her advocacies: climate, agriculture, education, and culture. The last one, most especially: Senator Loren Legarda is an advocate of Philippine arts and culture, engaging in efforts to revive the age-old tradition of weaving (creating the country's first permanent textile gallery at the National Museum, Hibla ng Lahing Filipino), and it was through Legarda's vision and leadership that the Philippines, after 51 years of absence, is now actively participating in the Venice Biennale, the oldest and most prestigious contemporary art platform in the world.
image: http://media.philstar.com/images/the-philippine-star/lifestyle/sunday-life/20180218/lif2-Silk-Textile.jpg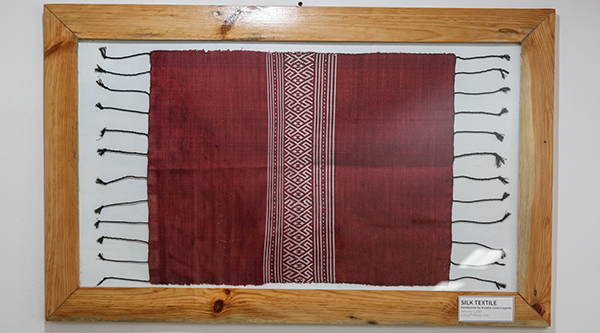 Silk textile hand-woven by Senator Legarda herself
"I was exposed to culture at a very young age, I was probably born into it," she shares. "I played kundiman on the piano. My mother (the late Bessie Gella nee Bautista) took voice lessons, and would sing opera tunes in the bathroom. She even had a baul or camphor chest of textiles — hablon, silk — which she had since the day I was born."
Maybe the Senator's passion for textiles originated from her.
"And I would see artists visit our home on Sundays — Romulo Galicano and SYM (Sofronio Mendoza). I visited the houses of Ibarra Dela Rosa, H.R. Ocampo and Mang Enteng (Vicente Manansala)." In fact Loren's thesis in 1981 when she took up Mass Communications at the University of the Philippines (UP) was about the content analysis of the works of Manansala.
"I love nature. In fact, I think nature and culture are intertwined," she explained. "I was just surrounded by all of that in my youth, so that it was the most natural tendency for me to advocate for its protection."
Oh, the beautiful places in the Philippines she has visited and with which she has fallen in love.
image: http://media.philstar.com/images/the-philippine-star/lifestyle/sunday-life/20180218/lif2-Kulintang.jpg

A kulintang
"The Cordillera is very rich, not just in textiles but also in its crafts and natural landscapes. (You can also regard) both tangible and intangible heritage of our indigenous people — the Hudhud chants of the Ifugao, the textile weaving of the Tingguians of Abra, of the Bontocs, the Gaddangs… there is just so much — from the hinterlands to the lowlands. It is simply overwhelming."
Go to Brooke's Point in Palawan, she adds, and you would be amazed at the area's nito-weaving techniques: very detailed and intricate. Same with the Hanunuo Mangyans. In fact, she just ordered a bayong made of nito (black fern) and bariw weeds. "My own home province of Antique, where they recently discovered the rice terraces in General Fullon Barangay in San Remigio, it's amazing. And it's not just with our indigenous people; it's the same also with our contemporary artists. We are booming with artistry."
Since Senator Loren's advocacy focuses on promoting, preserving and documenting Philippine art and culture, you would not at all be surprised that her own office in the Senate Building would reflect that very philosophy. 
"I didn't want my office to look drab, a typical government workplace," she explains.
image: http://media.philstar.com/images/the-philippine-star/lifestyle/sunday-life/20180218/lif2-Loren-Legarda-pose.jpg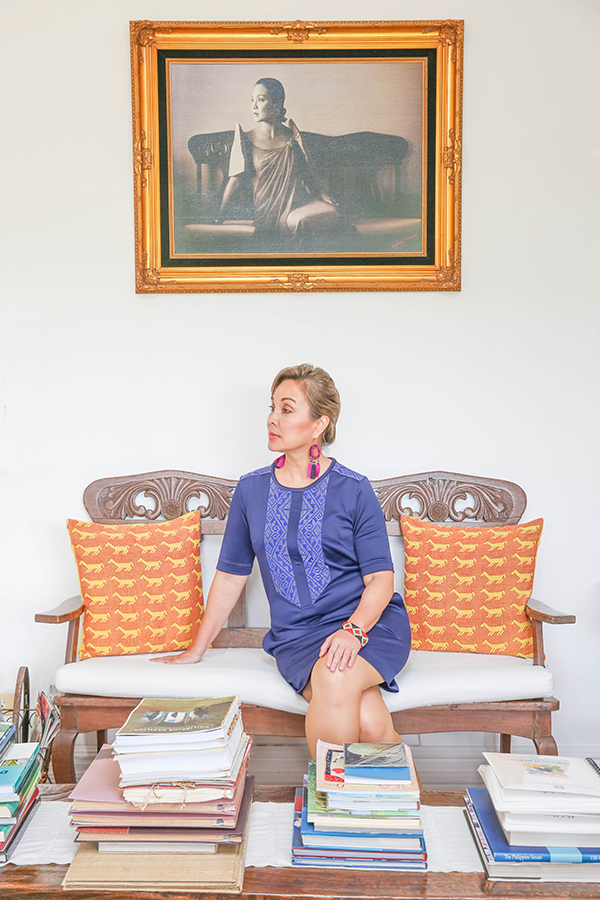 Loren Legarda replicates her pose in a photo taken during her first term as Senator in 1998. "The biggest fulfillment is to see lives change," shares Senator Loren, "because of your law, your funding, your action, your intervention, and your inspiration."
Instead of steel cabinets, recycled old weathered capiz windows bought from a junk shop in Lubao, Pampanga function as cabinets for the storage of files. As an alternative to expensive tiles or hardwood, the floors were treated with a plain cement finish. Cubicles are conspicuously absent in the office; instead, the members of Senator Loren's staff interact around a "communal legislative table" made from discarded pallets previously containing solar panels from her son's business. The side tables are made of wooden jalousies from Loren's house in Malabon; the legs of the table were castoff pipes.
The mats on the floor are hand-woven bariw (upland weeds) made by women from the Senator's home province, Antique; and baskets made by the Mangyans from Puerto Galera, Mindoro are also on display. Abel textile with binakol design from Ilocos is hung from the ceiling. Near the round center table are gifts from the Gawad sa Manlilikhang Bayan awardees handed out during the 2016 Dayaw Festival. Teofilo Garcia from Abra gave Loren a gourd hat, also known as a tabungaw. The gangsa (Kalinga flat gong) is a gift from Alonzo Saclag of Lubuagan, Kalinga. The Yakan bamboo xylophone, known as gabbang, was given by Uwang Ahadas, a musician from Lamitan, Basilan.
Upon the walls are artworks by Onib Olmedo, Gig de Pio, National Artist Abdulmari Asia Imao, Jana Benitez, Pio Abad and Luis "Junyee" Yee Jr.
"Look at my doors," says the Senator. And we are promptly impressed by three door installations by Junyee: the first is "Bae Matumpis," which means "the one who takes care," denoting the artist's and the senator's shared advocacy for the preservation and protection of culture; the second is "Punglo at Lapis," (Bullets and Pencil) which is made of Maranao landap malong (tube skirt) and copper wire, symbolic of how the past is juxtaposed with the future (made around the time of the crisis in Marawi); Junyee's third door installation titled "Weavers' Legacy" utilizes a traditional patadyong (tube skirt) from Barangay Bagtason, Bugasong, Antique, Senator Legarda's home province.
"I don't think there is another Senator with artworks attached to their doors (laughs)," says Loren. "And even my outfits reflect my advocacy."
The Senator points to her Yakan-weave dress made by Looie Lobregat, Marikina-made shoes by Tish Sevilla, Manobo beaded bracelet bought from Kidapawan, North Cotabato and gorgeous earrings by J.E.R. Shellcraft Creation.
"I inherited real jewelry from my mother, but I wear P200 nito tassel earrings from Cebu — and I'm so proud of them."
Gone is the girl who dreamed of becoming an astronaut and journeying into a garden of stars. In her stead is a Senator who gazes out of her office window festooned with a green Maranao canopy, watching the sunset and thinking of discoveries still to be made in our own indigenous universe.
Senator Loren Legarda concludes, "I think a lifetime is never enough to fully understand, appreciate and know the richness, the vastness of the wealth of our people."